I remember it vividly.
'Twas the night before Christmas many years ago.  I had just been evicted from the bed that my sisters and I traditionally shared on Christmas Eve.  No, not in that way, you sick ass hole.  We do live in the south, but it wasn't like that.  My sisters and I were all close, and we would bundle up together in the same bed on that one night per year, read Christmas stories, fall asleep, wake up, read some more stories then sprint downstairs to see Santa's bounty.
On this particular night, however, the combination of my detailed questioning on Santa's exact arrival time, whether that noise we just heard on the roof was a reindeer and my incessant wiggle-worming were too much for them to handle.  I was out.
So off I went to my own bed, finally settling into a restless sleep in eager anticipation of that jolly old fellow's arrival.  Some time later, just down the stairs there arose such a clatter.  I sprang from my bed to see what was the matter.  To the top of the stairs I flew in a puff at the sound of our stockings all being stuffed.  Then all of a sudden, there came a loud banging sound.  One of those stockings had just hit the ground.
"Goddamnit, Mary Ann," someone immediately yelled.
This gave me pause. The fact that Santa would know my mom's name is understandable.  I mean, the dude is able to service like 6 billion people in one night, and he's not exactly svelt, so he's pretty fucking magical if you ask me.  Furthermore, it made sense that my mom was even downstairs helping him because as magical as Santa is, I'm sure he needs a few helping hands along the way.  And while I didn't like this motherfucker yelling at my mom like that, I could nevertheless understand it because this was his most stressful night. Even Santa loses his patience sometimes.
But that voice sounded eerily familiar. It was the indistinguishable nasally, Arkansas twang of my father – Reuben Leonard Chrestman, III. The Reubenator. Kanga-Reuben.  Reub-a-licious.  Reuballz.  That's what I could not get past.
And so the night that had been so magical for me up to that point became a profound disappointment.  It was just a difficult thing for me to wrap my 18-year-old head around at that time.
But, like everyone else, I would eventually come to accept this black eye of the Christmas season, and I managed to enjoy the next 17 Christmases, even if they were a little less magical.
Until today.
It began like any other Saturday.  I was awoken by my two-year-old daughter Amelia's musings that waiver between conversations with herself on topics like boogers and her nipples to singing songs of her own creation like "Twinkle Twinkle Little Star" sung to the melody of "Are you Sleeping."
I dutifully made my son Kohl's G-tube blend as my wife Sarah eventually got herself out of bed to provide a helping hand. On this morning, we were to bring the kids to meet "Santa Claus."  We were supposed to be there at 9:30 a.m.  We would not arrive at 9:30 a.m.  Ironically, the only person that still gives a shit about showing up to stuff like that on time – Sarah – is almost always the cause for us being late.  So we eventually arrived close to an hour later.
This was a lovely event.  There was face painting, there was ginger bread house making, and there were plenty of kids having a good time.  Santa was in attendance, but other than his not being the most jolly Santa I have ever seen, something seemed off with him: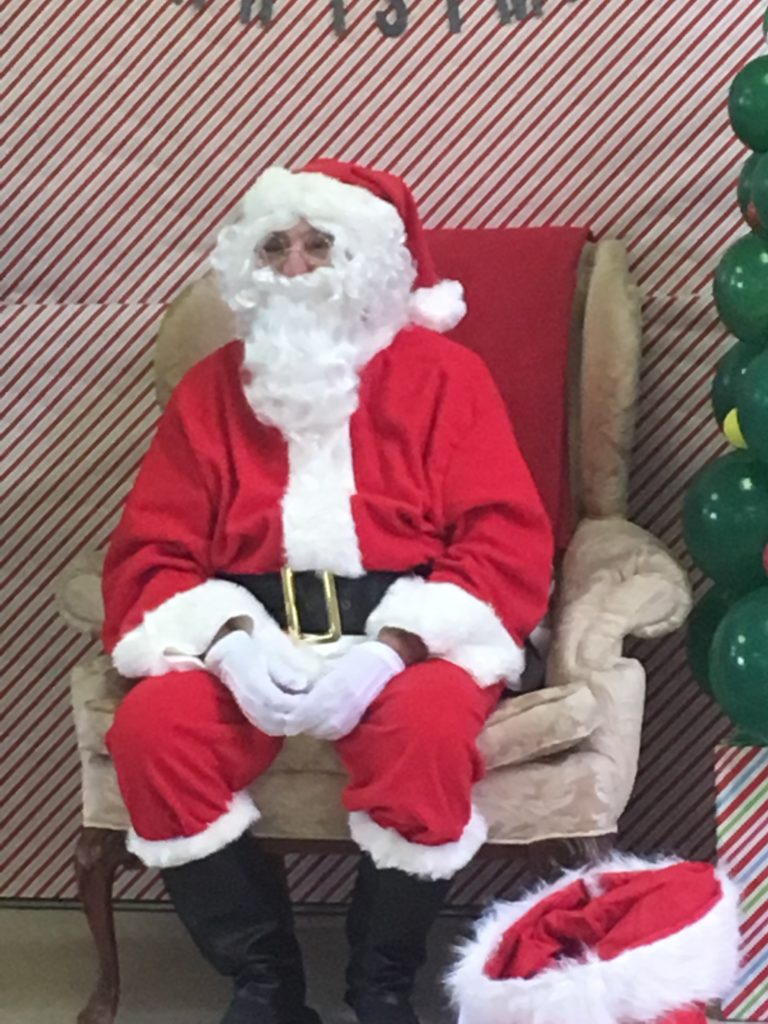 I moved on with my day and began helping Kohl make his gingerbread house.  Yet, every time I passed in close proximity to this Santa, I couldn't help but notice him muttering "Kill me," under his breath with alarming frequency.  This was indeed strange and probably a little unsettling for Santa to be saying that  especially with so many kids around.  But then again, I have never had to dress up like Santa and don't have any familiarity with the suckery of having a bunch of random children sitting on my lap and flapping their gums about what they want and shit.  So I gave him the benefit of the doubt.
Yet another incident occurred when my mom had just returned from having her picture taken with Santa.  My mom reported that upon sitting on his lap, Santa Claus pinched her left butt cheek and remarked, "nice ass."  Okay, I thought.  This was so wildly inappropriate.  I started to report this Santa, but my mom didn't seem to mind, and I'm sure some other Santa in some mall somewhere has done much worse.  So I let that go as well.
Then it came time for our pictures with him.  First, my sister Mary Beth and I took some pics with him and paid homage to our oldest sister Allison who we lost last year.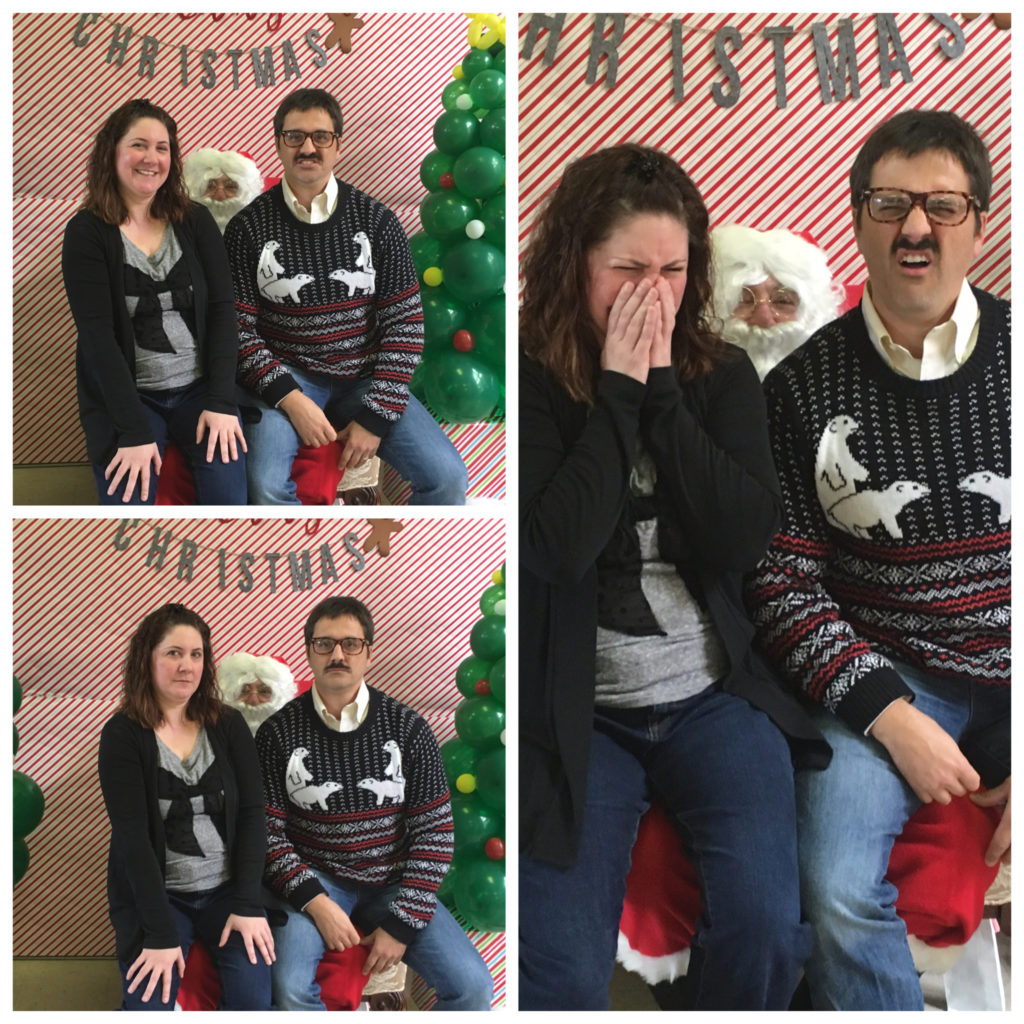 Then, it was time for a photo with the wife and kids, so I plopped myself on one side of his lap with Kohl while Sarah and Amelia plopped themselves on the other side.
"Everyone say 'foreskin,'" Santa remarked immediately before the picture was taken.
As we walked away, I was uneasy.  That voice, I thought to myself, why is that voice so familiar.
I continued decorating the gingerbread house which turned out to be the longest, most painstaking decorating process of all time. But it was still gnawing away at me.  I had to get up and clear my head, so I stood up and walked to the library to think.
Foreskin?  Who says that before a picture is taken, I thought.  That is so weird, and yet so familiar.  I feel like I have heard that thousands of times before.  I may have even heard it before literally every family picture was taken growing up.
 Waaaaaaaiiiiiiiiitttttt aaaaaaaaaaa second…
Then, just as I opened the door to the library, there was Santa Claus, de-robed: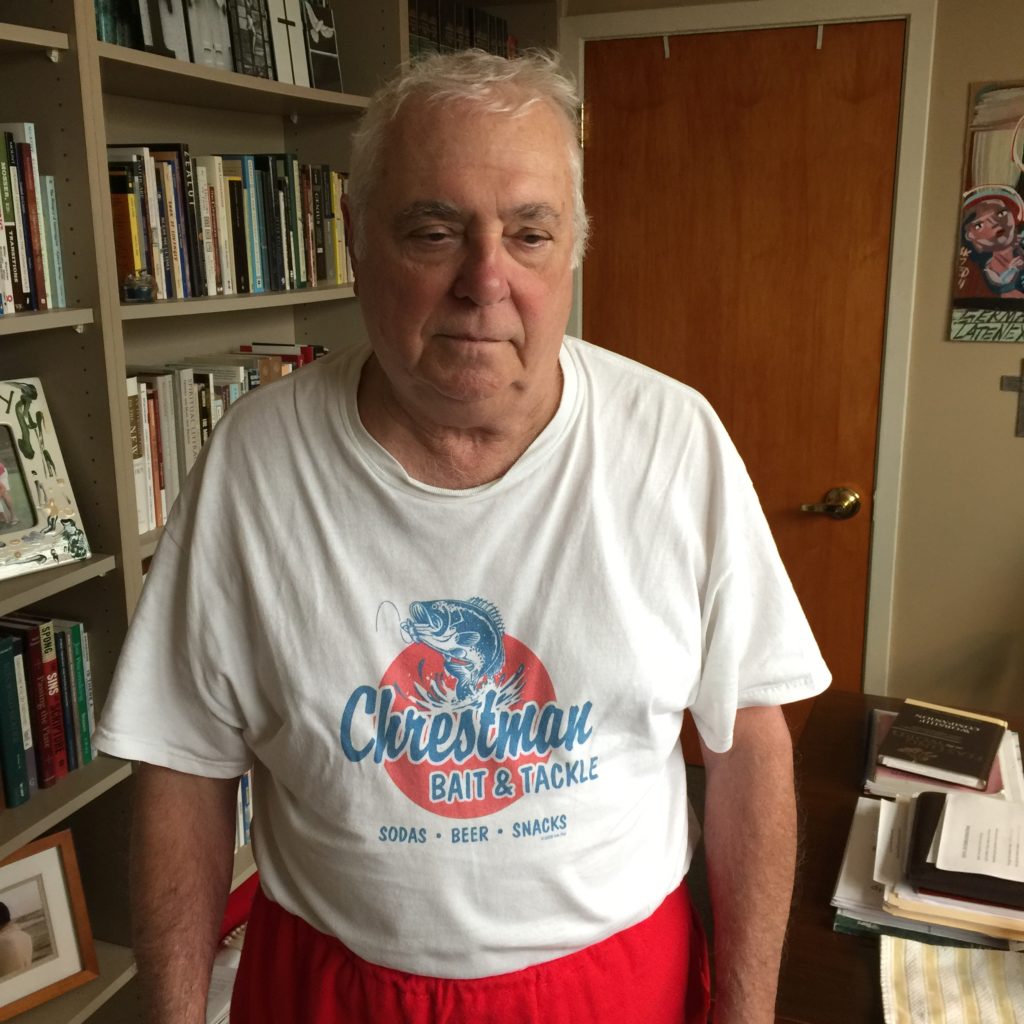 And immediately all the idiosyncratic behaviors were forgiven.  Santa is real, and he is my father – Reuben Leonard Chrestman, III, a 71-year old radiologist from Helena, Arkansas who looks vaguely like former Israeli Prime Minister Ariel Sharon.  God he's good.  Little did I know all those years ago how close the truth I was.
This Christmas and all Christmases to come will now be just a little more magical.